Did you know? April is National Card and Letter Writing Month! Letter writing may seem a throwback to an earlier, pre-digital time (and a downright foreign concept to younger generations), but at Bas Bleu we think it's a habit worth celebrating.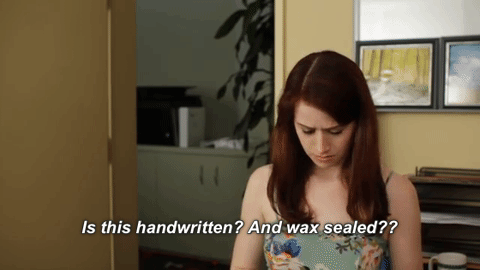 We're not advocating against digital communication, of course. It's convenient, quick, and fun. But we're never going to stumble across a box of our parents' text messages in an attic, years after their deaths. Nor is our spouse going to tuck a romantic email into a bouquet of flowers, or tweet out the tear-stained first draft of his wedding vows. And our great-great-grandchildren won't get to know us through our Facebook accounts. Letters have a permanence that digital correspondence doesn't, no matter what your email server and "the cloud" promise. The physicality of paper offers a link to the writer, the recipient, and to a specific—at times monumental—moment in history. So for those of us who have allowed emojis and Facebook updates to supersede our long-form, snail-mail correspondence, National Card and Letter Writing Month is a great reminder of the joy letters can bring.
When author Roald Dahl's mother, Sofie Magdalene Dahl, died in 1967, he discovered a carefully preserved stash of more than 600 letters that he'd written to her over the course of his lifetime. She'd saved them all, "holding on to them despite wartime bombings and many subsequent house moves." Later, they were used by scholars as a window into his life and work and eventually to create the epistolary biography Love from Boy. But most important, for Dahl they were a physical reminder, a keepsake, of his late mother's love and devotion.
Our challenge to you this week—and in the coming weeks and months—is to endeavor to put pen to paper more often. (Typewritten missives count too, if your penmanship is tough to read!) Here are a few ideas to get you started:
Skip the birthday text message and send a card instead, even if it's just a plain notecard with your birthday message written inside.
Write a postcard to your grandchild, godchild, niece or nephew. Kids love getting mail addressed just to them. You can even send them their own stationery set, so they can practice the art of letter-writing!
Whenever a random memory of a friend from school or the old neighborhood pops up, jot it down and mail it to her. She'll get a kick out of being remembered out of the blue.
Mail a message of condolence. For mourners, the days after the death of a loved one can be a blur, and your written words can be saved and appreciated weeks after the fact. Or, write to the bereaved on the anniversary of their loss; they'll be comforted to know you haven't forgotten their sadness.
Write a love letter to your spouse or partner, even if you've been together for decades. It doesn't have to be steamy; share a memory that kindled or reinforced your love for them.
And if someone you know is a diligent correspondent whose cards and notes have brightened your days, head to our online Stationery Shop and select a pack of cute notecards or a new pen as a gift with which to say "thank you" for their thoughtfulness over the years.
Remember: Your letters don't have to be Pulitzer Prize-quality writing. It's the gesture that counts, the sparkle in your friend's eyes when the mailbox reveals something other than bills and junk mail. Everyone loves personal snail mail; we Bas Bleu editors always get excited when we receive a nice note from a customer, or a handwritten book recommendation.
Write on, bluestockings, write on!
_____________________________________
Don't want to miss another post from The Bluestocking Salon? Sign up to receive our posts via email! Just scroll down past the comments section and you'll see a space where you can enter your email address to receive notifications of new posts.